Welcome Family Members
This page last updated: August 05, 2018 (See Miller Fire with Newspaper article and Photo)
---
This is my attempt to write some memorable things about my life and all of you, my family. I am missing a lot of names, places and events. Some events, dates, places and times may not be completely correct, so I would appreciate any corrections and additional facts and information, of any kind from all of you.
Sisters, please send me all the information and photographs you can via e-mail.
My email address is donmail3@cox.net.
I will add anything you want to this web page. Photos, stories, events, good memories, bad memories, people, places, things, times, whatever.
---
---
Mother: Julia Margaret Turner (Schwab) Born 16 August, 1912 Iowa - Died 14 December, 1986
Father: Donald Albert Schwab, Born 15 February, 1915 Kansas - Died 22 October, 1992
Donna Marie Schwab (Collins) Born 03 November, 1937 Pasadena, California
Donald Ray Schwab, Born 25 October, 1939 San Gabriel, California
Dorothy Maxine Schwab (Miller) Born 07 April, 1941 Stockton, California
Roberta Carol Schwab (Werth) Born 12 December, 1943 Dell Rapids, South Dakota
Vicki Irene Schwab (Johnson,Slamal) Born 22 September, 1948 Fort Worth, Texas
In the Beginning:
Dad was in the Navy at some time. Not sure when, or what he did or what ship or base he served on. I also have pictures of him in an Army uniform, nobody seems to know what years or where he served. He was a dairy hand in Stockton California about the same time my oldest sister, Donna was born in Pasadena, 1937. He milked cows by hand. In those days there were no milking machines. It was very hard work and he had forearms like Pop Eye. We lived in San Gabriel California when I was born in 1939, until 1940. From there the family moved to Sioux Falls, South Dakota. Not sure what type of work Dad did there. Farm hand I think. . We lived in South Dakota about 6 years, until 1945. Beginning in 1945 the family moved to various places sometimes staying as short a time as 2 weeks in each place.
Dorothy and Donie - Pals Donna, Dorothy, Donie
Dorothy & Donie Roberta - showing off New Panties
The Four Musketeers
Awesome Dream Home
All Smiles!
Donna Donie & Donna
Donie (way-out swim wear)
Mom, Dad, Donna, Dorothy, Donie Roberta
1949 Guess Who?
Dad was born in Kansas and grew up on a wheat farm. His father was a staunch German. From things Dad said I believe that his father was a harsh and at times a cruel man. Dad told me that when he was growing up on the farm all of the children were forced to work long and hard every day in the fields and tending animals. Later in life after Mom and Dad were married Dad was a welder on a construction team installing cross-country gas pipe lines. We were in Ft Worth, Texas for a while, where Vicki was born. We lived in a small trailer house. It was extremely crowded and there were 7 of us. We also lived in Weather ford and Denton Texas for short periods. When my parents were first married Dad was a truck driver. He drove a gasoline semi for a while and was in a bad wreck and was nearly killed. I remember going on a 3 day truck trip with him when I was about 11 years old. At that time the truck was an 18 wheeler semi and was hauling live stalk. I remember how small I was setting in that big cab and looking out at the scenery going by. It was also very hot and there was no air conditioning. We lived on potato chips, soda pop, Baloney sandwiches, cheese and crackers, chocolate milk and candy bars. I was in heaven! That was one of the few times that Dad and I got to do anything together for any period of time and have any kind of bonding. He was usually gone on the road somewhere when we were growing up. I think he meant well but he was not a good role model for any of us. I have tried to be closer to my children than Dad was to us but I am not sure I did a very good job of it. As I get older I wish I had spent a lot more quality time with them. I guess in the end we all do the best we can with the tools we are given.
Mom was also born on a farm in Iowa. Her fathers name was Charlie Turner. I only remember meeting him once when I was about 5 or 6 years of age. I recall he was tall, thin with silver hair. I don't remember his face. There were 13 children in her family. Uncles Bobbie, Art, Leonard, Aunts Bessie, Peggy, Mabel, Grace and Dorothy are the only ones I got to know. I don't remember the other children's names.
Mom and Dad's Wedding Certificate
| | | |
| --- | --- | --- |
| | | |
| Dad Schwab 1940's (Donald Albert Schwab) | Mom 1930's looks about 18 Yrs Old (Julia Margaret Turner) | Left to right Aunt Mable, Mom, Aunt Dorothy, Aunt Bessie, Aunt Peggy (front) Taken about 1955 |
Left to right: Mom Dad 1950's -- Mom & Dad, Donna, Don, Dorothy 1940's
Dad, Brothers Warren, Ray, Children: Donna, Donie, Dorothy 1940's
Mom and Dad 1940s
Dad 1940's
Mom 1930's -- Aunt Peg & Mom 1930's
Left to right: Mom & Aunt Dorothy 1920's -- Mom & Aunt Bessie 1930's -- Mom & Grandpa Charlie Turner 1930's
Left: Dad 1950's Working on Pipeline -- Right: Mom & Dad 1930's
Left: Dad and Uncle Ray 1940's -- Right: Dad, Mom & Uncle Aaron 1940's
Dad 1940's - - Three Star Guy!
- In the Navy -
---
Gypsies: About 1947, we settled in Marshall Texas in an old farm house in the country.
Down Town Marshall Texas 2008
I was about 12 years old. I remember I got a single shot 22 gauge bolt action rifle for my birthday that year. I had received a Daisy BB gun the year before. Looking back, I can't believe parents would give a 12 year old kid a 22 rifle. As I recall Dad said he paid $5 for it at a pawn shop in Marshall. Good childhood memories! I can't imagine giving a 12 year old kid a real gun these days. It is a different time! It was a lot of fun living in Marshall. That's where I used my first telephone ever. It was at a movie theatre in downtown Marshall. I remember not knowing how to hold it so a kind lady there showed me. I was trying to listen to the mouth piece! The movie was a Saturday Matinee and it cost 10 cents for all day.
Marshall is where I got my first exposure to racism. As I recall I was about 11 years of age. I was walking on the town square boardwalk and an old gray haired black man stepped off the boardwalk and into the street to let me pass. I didn't't know what to think. I had two black buddies out near where we lived in the country. Their names were Henry and Scrappy. They were also my age. We used to steal watermelons from a field which had a spring fed creek bordering it. We would put the melons in the chilly waters and then go back the next day and have a feast. I remember they were "Black Diamond" melons and weighed about 40 pounds. I those days they sold for 25 cents each at the road-side stands. We also went skinny dipping in the creek and one of the local farm ponds. We had a lot fun catching crawdads with a piece of bacon tied to a string for bait. We also caught a huge snapping turtle and Henry and Scrappy took it home so their mom could bake it. The next day I went to their house in the woods and had a roasted hind leg of turtle. It was very tasty. Tasted a little like dark Turkey meat. They were nice people and tried not to get involved in all the racial prejudice surrounding them.
One time my Dad and I and a friend of his went frog gigging on the Sabine River which divides the border between southern Texas and southern Louisiana. We left at sundown in a flat bottom boat with a small outboard motor, a battery powered spot light and a couple of burlap bags to put the catch in, and a frog gig. The catching was easy, just blind the frogs by shining the spotlight in their eyes, carefully move up close enough to gig them, and put them in the bags. The river banks were in a swampy area and lined with frogs. Their eyes glow in the bright beam of the spot light. We went after the ones with their eyes the farthest apart. We must have caught at least 50 large Bull frogs up to 3 feet long each. Both bags were half full and very heavy. I remember Mom and Dad cooking a lot of them for dinner that night. The frog legs were delicious. Tasted like a cross between fish and chicken.
Our neighbors (the Redman's) had a plum orchard and an old gentle horse named Babe. We used to ride the horse. Sometimes I would take Babe for ride by myself when the Redman's were not home. Several times I rode to the Plum orchard and set on top of Babe eating sweet ripe Plums until I was about to pop. The Redman's had a teenage son named Dick who was always trying to make advances on Donna but she managed to fend him off. He was pretty much a big jerk. Dad was working as a machinist while we lived in Marshall. The house we lived in had an outside well. The water was pure and cold. We all had to take turns pulling up buckets of water. Once a week we all took a bath in an oval galvanized tub (I think it might have been a small livestock tank). Who ever got in first got the clean water; the rest of us all used the same water. It was ok; we didn't't know any better at the time. Germs, hygiene, what are those? Mom heated buckets of water on the stove so we could all have a warm bath. I believe it was a wood burning stove. Times were simpler and less stressful in those days. There was a small country store a short ways from our house. Occasionally we would get a dime or a quarter and go there and get a large RC Cola for 5 cents and a giant gingerbread Bear Claw for another nickel. Bubblegum (the big ones), were a penny each. I used to stuff so many in my mouth I could hardly chew. Bread was 5 cents, eggs 20 cents a dozen, Coca Cola and Grapette sodas were 5 cents, large Snickers and Mars bars were also 5 cents and as big as the dollar ones are these days.
Dad had a shinny blue 1936 ford 4-door sedan with a turtle-shell trunk. He usually left it home while he was working somewhere. When I was 12 years old would take the car for a drive (when Dad was gone). I would drive it up and down the old dirt road about a half mile behind our farmhouse. I never got found out by Mom or Dad. The car had a floor stick-shift; I could barely reach the pedals and shift at the same time. It was exciting for me to drive at that age. I also drove the neighbors Ford tractor a few times. I got a single shot bolt action 22 rifle for my 12th birthday. As I recall Dad said he paid $5 for it at a pawn shop in Marshall. That was a lot of money back then. Prior to getting a real rifle, I had a Daisy BB gun. Good childhood memories! I can't imagine giving a 12 year old kid a real gun these days. It is a different time!
Daisy Red Ryder BB Gun Ad from the 1940's
A 1936 Ford Sedan like Dad's
Return to Paradise: About 1951 my Uncle Roy (Hembree) and Aunt Peggy came to visit us in Marshall, Texas and talked my parents into letting me come back to California to live with them in Culver City. I was more than willing to go. The family was planning to move to California also sometime in the future. So off to California I went. Culver City and Santa Monica were really nice in those days.
Uncle Roy and Aunt Peggy and Uncle Freddie and Aunt Peggy in the 40's.
I was about 12 then. Uncle Roy worked at, and later retired from Douglas Aircraft in El Segundo. I remember them coming back from Las Vegas with coffee cans full of real silver dollars from the slot machines. aunt Peggy had many large cardboard boxes and albums full of large black and white autographed photos of hundreds of famous movie stars from the 1920's through the present 1951. She got every one of them autographed in person. She was totally into the Hollywood scene. I sure would like to know what happened to all those rare photos when she passed on. I lived with Uncle Roy and Aunt Peggy for about a year. While there they bought me my first bicycle. A big Schwinn balloon tire bike. I got a paper route for the L.A. Mirror and delivered papers for about 6 months. I had to get up at 4:00 in the morning, fold and rubber band all the papers (about 250) and then load them in big canvas saddle bag on the back of the bike. It took about an hour to get them all folded and packed and another hour and a half to deliver them. After all that, pedal home and get ready for school. I was glad to get rid of that job when I moved to Uncle Max and Aunt Dorothy's house in Whittier, to live for a while.
I was young and very impressionable; Uncle Max had a den with a pool table. The walls were covered literally from floor to ceiling on all four walls with Playboy Centerfolds. That was my first time, to see a nude woman. Shocking! Ha.
Uncle Max was a painter by trade and an alcoholic. For breakfast he would drink a six pack of Lucky Lager half quart cans of beer and smoke 3 or four cigarettes. He smoked unfiltered Pall Malls. Before he had a few beers he shook and trembled and could hardly walk or keep his balance. Needless to say he died when he was only 51 years old. Aunt Dorothy later married a real nice man named Tommy Thompson. He died later of cancer, was also an alcoholic. His drink was canned Freska and vodka, a lot of it every day. Aunt Dorothy died a few years after Tommy, also of Cancer I think. They both chain smoked and drank excessively.
Aunt Dorothy and Uncle Max
About 1952 Dad left Mom stranded in Texas with the girls, and Aunt Dorothy sent her money for bus tickets to move out to California. Mom and the girls lived with them for a while. Donna was already living with her before the others got there and I was living with Aunt Peggy and Uncle Roy. They lived in a stucco 3 bedroom tract home in a nice neighborhood, on a corner lot. It was the nicest place I had ever seen, up until that time. Carpets, nice big rooms. Everything clean and uncluttered. I don't remember ever living in a place with carpets before then. By today's standards we lived in some pretty dumpy places when we were growing up. We were all young and didn't know any better.
After several months Dad showed up and he and Mom got back together, and before we moved to Long Beach we lived at 226 Greenleaf Avenue in Whittier, in the old Greenleaf Hotel. While living at 1237 Missoula Place, Long Beach, Dad was gone for long periods of time and all the burden of raising and feeding 5 teenagers was on Mom. She didn't't work or drive. It was rough times for a while.
Here is all the family early 1960's.
Missoula Place was a small pre-war stucco court of homes lining both sides of the narrow street in a very crummy part of north Long Beach just off of Orange Avenue and just north of Pacific Coast Highway. I think there were about 10 homes on each side. My sisters and I fought and squabbled constantly. I was really a brat to them. I sure am thankful they still speak to me at all. We lived on Missoula Court until I went into the Navy when I turned 17 years of age. I had a girlfriend who lived 3 doors down named Dorothy Nix. She married a Marine stationed in Hawaii years later. I saw her again in 1969 at Mom and Leo's home in Paramount when she had come out to visit them. They had 5 children and they were all really cute kids. Don't know what ever happened to them after then.
While living in Long Beach we had to walk to and from school and there was a sleazy pool hall on the corner, at the entrance to our street. Not a safe place to be as a white kid in a black neighborhood at that time. I have since visited the area and the whole block is now a parking lot for Long Beach City College. I went to Franklin Jr. High and then Polytechnic High School on Atlantic Blvd. This area is now a very rundown and ghetto like. Lot's of gangs and drug related crimes, shootings etc. I got my GED High School Equivalent Diploma after I got out of the Navy and then went to Long Beach City College for several years. I never finished college or earned a degree. Got married, had kids, worked 60+ hours a week etc... I made all the wrong choices at the time. I should have finished college first, got a good job second, and then thought about marriage, in that order.
I met my first wife Penny Austin in Long Beach when I came home on leave from boot camp in the Navy in 1957. I was 17 and she was 14. We dated and were married when I was 19 and she was 16. Way too young. We had 3 children. Jennifer Kay, Bethany Ann, and Daniel Scott. We were married for 10 years and were divorced in 1968 while I was working at Douglas Aircraft in Long Beach. The kids are all grown up now and have families of their own. Jennifer lives in Palmdale CA and has two girls. Beth lives in Sunland CA and is married to Trent Alexander. Scott lives in the Victorville area and has 3 children by one marriage and 2 more out of wedlock. He is a Tattoo artist, and very talented.
---
While living in Long Beach, Sister Donna met a wonderful guy and later married him. His name is Delmar Collins. He worked as a construction carpenter. He and his partner built foundation forms for many of the tract homes being built around southern California at the time. Donna and Delmar later moved back to Delmar's home town of Silome Springs, Arkansas. They Dairy farmed and ran a commercial Chicken ranch for many years. They raised a fine large family and put them all through college. This is what I call success in life. They are both retired now and are enjoying many social, church and family activities and have lots of grand babies. They had 5 children, Billy, Jean, Shauna, Shawn and Brody.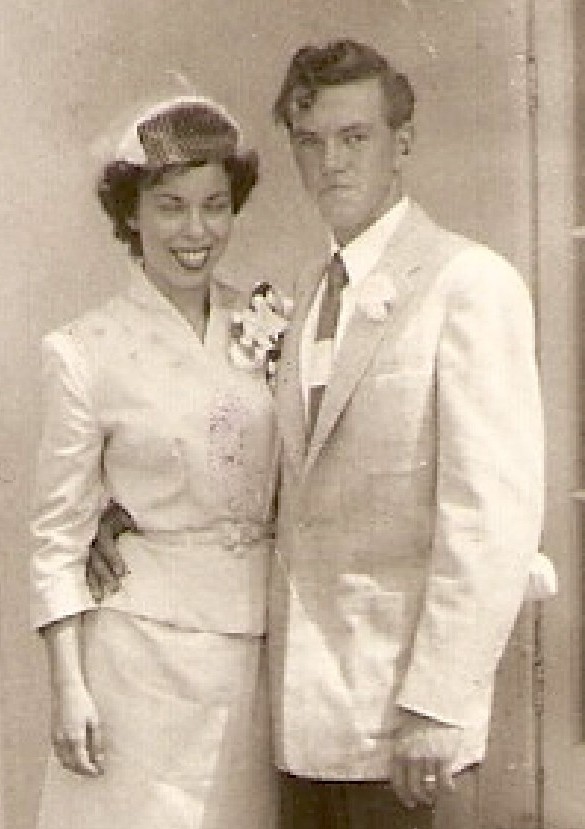 (click on link)
---
Sister Dorothy met a really nice guy named Chad Miller in 1958. I remember he had a cool motorcycle and a black leather jacket and wore his full head of hair in a duck tail. That was the cool thing to do in the 50's. Dorothy and Chad were married They had 4 children, Ralph, Roger, twin girls Julie and Vicki. Dorothy and Chad now live in Leisure World / Seal Beach, Ca.
(click on link)
---

Sister Roberta met Richard Werth and they were married and they had 3 children Laura, Glenn and Kim.
Roberta and Richard were divorced and she is still single and lives in Southern California.
(click on link)
---
Sister Vicki met Michael Johnson and they were married and had 2 children Michael and Jeremy.
Vicki and Mike were divorced and later Vicki met a great guy named Jeff Slamal. They were married in Upland Ca December 31, 1990. They are very happy and live in Escondido, Ca.
(click on link)
---
Trent and Beth 2007
(click on link)
---
Mom and Dad were divorced before my 17th birthday. I went in the Navy shortly after, October 26th 1956.
Later Mom met a really swell guy named Leo Smith. They were married after a while and lived in Paramount, California.
Mom and Leo Roberta, Dorothy, Vicki and Leo Mom Leo and Roberta
Leo in his Navy Uniform. About 21 Yrs Old
Leo Smith Site Last Updated: January 15, 2009
(click on link)
Leo's United States Navy 1943 "Range Finder Operator" Training Certificate
Leo is a wonderful person and I became closer to him than I ever was with my real dad. They moved from Paramount California to Park Hill, Oklahoma in 1974, approximately. We used to go fishing together all the time when we lived in Oklahoma for 7 years. Their house was very close to Lake Tenkiller. He is almost 90 now and lives in Tahlequah OK. Tahlequah is the Cherokee Nation Capitol. Leo is 1/8 Cherokee but looks full blood. He is one of those people who the more you know them, the more you love them. After Mom passed away Leo moved into town and lives in an Indian subsidized apartment senior community. It is very nice and peaceful there. We have had some concerns about Leo. There is a lady in her 50's that takes him to doctor appointments, shopping etc. but he keeps giving her money every week to help her with her expenses. We have reported her to the authorities there but as long as Leo wants to keep giving her money, there is nothing they can do about it. We have all talked to him about it but he still wants to give her money, and she keeps asking for it. He gives her four or five hundred dollars every week. He says he loves her and she is sweet to him. We have come to the realization that it is his money and if he is happy that is all that really matters as long as he doesn't't give her more that he has needs for himself.

---
In the Navy: In 1956 I was 17 rears old and I enlisted in the US Navy. For some reason I had always wanted to "sail the seas and see the world". Must have bee influenced by the pictures I saw of Dad in a sailor uniform. So I did. The day after my 17th birthday I was in San Diego US Navy recruit training center. I went through basic training (boot camp) for the standard 12 weeks. They re-shaped my head in a hurry! I met guys from all over the country in our unit. I heard words I had never heard before.
(Click Link)
After boot camp I went to Electricians Mate School for 6 months. While in EM school I was able to come home to Long Beach and visit the family weekly. I didn't't have a car so I hitch-hiked up and down Pacific Coast Highway to get to and from the Navy base in San Diego. There were no I-405 or I-5 freeways in those years, only Pacific Coast Highway, known as PCH. After graduating from EM school I was assigned to my first ship. It was the USS Wantuck, APD-125 home based in San Diego. The Wantuck was a converted Destroyer Escort with a crew of about 250 men. Her primary function was to track and chase submarines.
USS Wantuck
Me at 17 US Navy Boot Camp, San Diego Me at 18 aboard USS Eldorado
Hence, a major event: We got underway for Hawaii on our first sea duty cruise. We were part of a huge convoy of ships conducting war games (mock battle) about 150 miles south east of San Diego. I was on duty in the aft engine room about 2:30 AM. We were zigzagging between ships and tracking a submarine that was trying to avoid us. All the ships in the convoy were traveling at about 21 knots with "darken ship" orders. That means no running lights or any other visible lights allowed on the ship's exterior. Well as luck would have it while darting between ships, we got rammed broadside by the USS Lenawee.

The Lenawee was 3 times our size, the size of a small carrier. We were hit on the left side in the engine room where I was standing watch. Fortunate for me I was on the right side of the ship. The Lenawee hit us so hard the keel (center line frame) was bent 18 inches. She bounced off of our ship 5 times before being able to back down full throttle and come to stop. There were 3 other people on watch in that same engine room. One was a machinist's mate on the lower level on the left side, my electrician partner setting next to me on the right, and the Chief of the watch to my immediate left. The ship had electrical propulsion and we were operating the electrical throttles. The machinist mate on the lower level was killed instantly, the Chief of the watch died in the hospital 2 weeks later. He had served in the Navy for 30 years and was just catching a ride home to Japan where he was scheduled to retire upon arrival. He was standing in front of a steam line that burst (650 PSI superheated steam). The electricians mate to my right was given a medical discharge about 6 months later. Part of his right ear had been burned away by the steam. I ran into him in San Diego when he was on his way home to Oregon. He said he got 25 % disability for life from the Navy. The ship that hit us had a very large and modern clinic (sick bay) so we were hoisted aboard and put in sick bay. The ship then headed for Hawaii. I was fortunate for there was a very bright young doctor aboard who was a burn specialist. He wrapped my burns with gauze saturated with medicated Vaseline jelly. It had only been recently developed to treat burns and prevent scarring. Hence, today I have no scars. Two weeks later we arrived in Honolulu Hawaii and I spent 3 months at Tripler Army Hospital. I had steam burns on my face, hands, neck and forearms. Everywhere there was exposed skin. I was very fortunate to be setting where I was and I was the only person in the engine room that did not get hit directly with escaping steam. All the lights went out and the roar of rushing steam was deafening. I could feel the layers of skin on my face and arms starting too loosen up from all the hot steam in the room. The burning sensation and deafening roar of escaping steam was intense. Somehow we managed to work our way around the right side of the engine room, up and over equipment to the hatch at the rear and center of the room. As we were climbing up the steel ladder, someone shined a battle lantern down into the steam and saw us at the foot of the ladder. As we climbed out they told us in another few seconds the hatch would have been sealed and we would have been drowned. They had to seal all the hatches to keep the sea water form coming in a sinking the ship. Whew, that was a close one. Just like they say, my whole life flashed in front of me before I got out of the engine compartment. Just like a movie in high speed.
The Wantuck stayed in dry-docks for a year while the collision was under investigation. It was later scrapped. While in the hospital in Honolulu I was driven to a hearing, in robe and pajamas, in front of a panel of Captains, Commanders and an Admiral to testify as what happened during the collision. It came out in the hearing that there was so much" sea return" on the radar screens for the operators to see each others ship. The only warning we received prior to impact was an order to back down at full power. Apparently the sailor on watch on the bow of the ship saw the other ship just before we collided. So a few seconds later we were rammed. Collision, August, 1957 - Although her crew saved her after being rammed by the much larger USS Lenawee, APD 125 USS Wantuck was too badly damaged for efficient repair. She was decommissioned November 15, 1957, sold October 27 1958 and broken up for scrap.
Newspaper Article and Photo Link:
(Click Link)
A USS Lenawee crewman's account of the collision: "The Lenawee was transporting the Marine Corps' regular monthly shipment of replacements for the troops being rotated back from Okinawa after 14-month assignments there. I don't know exactly how many Marines were on board, but it was well into the hundreds and possibly as many as a thousand or more. It's hard to tell when you are sharing space with so many others down in the troop compartments.
We went on board in San Diego on the morning of August 24, 1957, got settled in and enjoyed watching as the crew got the ship under way. Having never been on a ship before, we were surprised at seeing sharks in the water as we left the harbor. Otherwise, it was a beautiful day. After enjoying the excellent Navy food and watching a glorious sunset, we crawled into our racks with our M1's and tried not to get seasick.
A little after 3:00 AM, we were awaked by a thunderous crash followed by the clatter of rifles, helmets, and in some cases, Marines being tossed to the deck. While we were trying to sort out our boots and other gear, an order came over the intercom to prepare to abandon ship. Our NCO's took charge and we were lined up at the ladder wearing life vests and ready to go in just a couple of minutes. Then we waited for word to move out.
We had no idea what was going on but we knew that if we had to get off the ship, it might take a while for our turn to come because of all the troops on board. I do remember some comments about the sharks we saw the day before and whether there would be enough room in the landing crafts for everyone. But everyone stayed calm and soon the talk was about what must have happened.
Eventually word was passed that we had collided with another ship and that both ships were stopped. Being oblivious to the realities of navigation at night in foggy conditions, all we could think was "How in #@%&* could you hit something driving a ship as big and slow as this with nothing but hundreds of miles of water in all directions?" When word came down that our ship was in no danger of sinking, we were told to resume normal activities but to stay out of the way.
Later in the morning we were allowed up on deck. We could see the Wantuck and the gaping hole that extended from the main deck to below the water line. The explanation we heard was that they were practicing a zigzag pattern and the Wantuck had crossed in front of the Lenawee and was struck broadside. While we Marines were still wondering what caused the collision, I never heard any of the ship's crew make any comment about who was at fault.
Some of the Wantuck's crew were brought aboard the Lenawee while others stayed behind to try to keep it afloat. While we couldn't't stay on deck as long as we wanted, we did see the Lenawee's landing craft going to and from the Wantuck, and heard some of the conversations of crewmen involved in the operation. At some point, the Wantuck was stabilized. We heard that if they could keep the engines running they would able to pump the water out faster than it came in.
Later in the day, the Wantuck was assisted by other ships in the area and the Lenawee proceeded on toward Pearl Harbor. At Pearl Harbor, we were able to see the bow damage up close at the dock. It was then easy to understand why the Wantuck was so severely damage. Even at a slow rate of speed, the knifelike shape of the bow would concentrate an enormous force at the point of impact.
I didn't' even think about it then, but we were very fortunate that night. If we had been just few seconds further ahead the roles would have been reversed and the Wantuck would have plowed into the side of the Lenawee. It wouldn't have taken a very big hole to flood one of the troop compartments. The thought just occurred to me that perhaps Marine Private Joseph J. Wantuck, who sacrificed himself on New Georgia Island in 1943 to protect his fellow Marines, and for whom the ship was named, might have been on watch that night. After the stop in Hawaii, we went on to Okinawa".

---

The following was posted on the internet by the guy setting next to me in the Wantuck engine room at the time of the collision. I met him later in 1957 again in San Diego. I was in my way to my new ship assignment aboard the USS Eldorado and he was on his way home with a medical discharge. A portion of his left ear had been burned off during the collision. Thanks to my sister Dorothy for finding this for me.

Roy Helton wrote on 2003-02-20 11:42:52.0

My name is Roy P. Helton, (I was sometimes referred to as Helty). I served on the Wantuck from '55 to '57 and was on throttles in the forward engine room the night of her collision with the Lenawee. There are inaccurate accounts posted here of the number of men who were killed as a result of that collision and I just wanted to set the record straight. There were only two men that actually died: a CPO, whose name I don't remember, and an FN named Penniston. Both were on watch in the forward engine room. There were four of us on watch at the time. Penniston, we called him Penny, was on the lower level. On the upper level were the Chief, and Donald Schwab, a new electrician who was the messenger of the watch, and myself on throttles. I was told by the Captain, who later came to visit me in the hospital, that they had found Penny's body after the ship had been put into drydock. He had drowned in the lower level, but had a gash on his head and probably never knew what happened - at least I would like to think that was the case. The water was about chest-deep on the upper level by the time we got out. The Chief and Schwab and I suffered from steam burns and were moved to the Lenawee. We were later dropped off at Oahu and taken to Tripler Army Hospital, where I spent several months in the burn ward. Schwab, who was burned the least, was soon discharged from the hospital. The Chief developed complications in his lungs, and I was with him at his bedside when he died. To my knowledge there were no fatalities of crew members other than those that were in that engine room.

This is a copy of the letter sent to Mother by the commanding officer of the USS Wantuck shortly after the collision.

---

Three months later I was fully recovered, and was transferred to my second and last ship, the USS Eldorado AGC-11, a communications flagship. I was an Electricians Mate. I spent the remainder of my four years in the Navy on the Eldorado. I came aboard a Seaman, made 3rd Class Petty Officer 2 years later, and became a 2nd Class Petty Officer 1 year before being honorably discharged.
Click Link
We made several western Pacific cruises. The most memorable lasted 7 months. From San Diego to Hawaii, the Philippines, Bali, Australia, across the Equator where I was initiated and became "Shellback", also went to Japan, Hong Kong, Okinawa and back to San Diego. For a 19 year old kid, it was quite a fun time. Ok, enough of the boring stuff nobody can appreciate that wasn't there! I was honorably discharged from the Navy 1 day before my 21st birthday, 24 October 1960, served exactly 4 years.
I was asked to re-enlist in the Navy at the end of four years but I was convinced that this was no place to make a career. What made me decide not to re-enlist was an incident that occurred while in my last western Pacific cruise:
The ship was in the Philippines' and we had open house. There were a lot of the local people touring the ship. The rules were that no civilians were allowed below the 1st deck of the ship. There were two enlisted men who were cough below the main deck with two local "ladies" doing what they shouldn't have been doing. They knew the rules and broke them and as a result were court marshaled and given bad conduct discharges. A few months later the ship was anchored in Sidney Australia. It was the Christmas season and the ship was decorated with white holiday lights from stem to stern. We looked like a floating Christmas tree. As an electrician it was one of my duties to make sure all the lights were in good working order. I had Duty Electrician watch one night and received a call from the Bridge about 2:00 AM. It seems there were a couple of lights burned on the Admirals Veranda where a party was going on at the time. They had a live band and were entertaining about 100 dignitaries and residents of Sidney. I went to replace the bulbs but on the way I had to pass through Officers Country (state rooms where they slept). I was shocked to see women and officers drinking, dancing, running in and out of their rooms half dressed and having a fine time. Just a few months' earlier two enlisted men were Court Marshaled and given a dishonorable discharge while the ship was in the Philippines for doing the same thing. This incident convinced me that I didn't want to be part this kind of cast system for the next 20 years.
Civilian Life: I was discharged from the Navy October 24th 1960 and started working in a Parking Garage/AVIS car rental on Elm Avenue in Long Beach. I worked there for minimum wage ($1.25 per hour) for one year and then went to work at a service station at 4th and Alamitos Ave. (gas was 27 cents per gallon), also in Long Beach. I worked 60 to 80 hours per week for one year and then went to work at North American Aviation in Downey, Ca in 1962. I was at NAA four years until Feb. 10, 1966 when I started working at Douglas Aircraft Company in Long Beach.
My First car was a white 1952 Chevrolet convertible. It had over 150K miles on it and was worn out when I bought it for $100. But I drove it for a year anyway. The engine finally blew up and I scrapped it. Here is a picture of a 1952 Chevy. Mine didn't look nice like this one!
A picture of a 1952 Chevy, similar to the one I owned.
My second car was a 1937 Plymouth sedan. I bought it in 1962 from an elderly gentleman in Long Beach for $200. It was in mint condition with a low mileage of only 40K. The old gentleman had kept it garaged since it was new and it was very clean. He sold it because his eye sight was too bad to pass a driving test to renew his license. The Plymouth had mohair upholstery and a floor shift manual transmission, and a flat-head 6 cylinder engine. I drove that car for 3 years before it needed major repairs. I couldn't afford to get a rebuilt engine for it so I towed it to the junk yard. I really hated giving up that car.
A snapshot of my 1937 Plymouth Sedan just after I bought it in 1962.
---
At Douglas Aircraft : February 10, 1966 I was hired as a field service representative and was sent to work at Subic Bay Naval Base at Cubi Point Republic of the Philippines on A4/TA4 Jet fighters for 6 months. My job was to modify electrical wire harnesses inside the engine compartment of A4/TA4 fighters for installation of a Sperry (electronics) black box.
The U.S. was losing a lot of fighters being shot down with Vietnamese SAM missiles. The Sperry black box somehow altered the radar return to the guidance systems of the missiles and thus the missile would miss its intended target. While on that job I had an opportunity to spend a week on the aircraft carrier USS Constellation.
Me at work, Cubi Point, Philippines
I would love to be that thin again!
---
USS Constellation
We ate our meals in the officers Ward Room (dining room). The food was excellent and we even had waiters to serve us. As civilians we were treated like royalty. The Pilots were grateful that we were working on their fighter planes. It was very interesting talking to the pilots and crew. They were flying bombing missions over Viet-N am. One evening I was setting across the dinner table from two young pilots. One of them was describing how he was flying into a valley to drop napalm bombs and was receiving a lot of ground fire. When he pushed the button to drop a bomb, it was jammed and wouldn't't drop. Not knowing what to do next he decided to do a barrel roll with the whole aircraft. That shook the bomb loose and he was able to drop his load and return to the carrier. I was impressed with how young and brave most of the pilots were.
Watching jets take off with their after burners on at sundown was like a loud fireworks show every day. Flight operations were a spectacular display of power. I will never forget the images of 18 year (kids) old sailors loading and arming bombs and rockets on the aircraft before each mission. The ship was literally a floating ammunition dump on the lower decks, and all those kids doing such dangerous work with precision and no accidents. Our young military folks are truly amazing and dedicated.
While in the Philippines we had to take a bus to the capital city of Manila every 30 days to have my work visa renewed. It was a 4 hour drive both ways so I had a chance to meet a lot of people and see a lot of the very primitive jungle countryside. To get our visa renewed we had to bribe several people to get us to the right desk and the right official, and then we also had to bribe the official. The most corrupt government I have seen, even worse than Mexico, if that's possible. We used to stop and buy fresh tree ripened giant Red Mangos at the roadside fruit stands. You cannot buy such fresh and delicious Mangos here in the USA. It is a very interesting and corrupt culture. Most of the country is poor and uneducated. Like all third world countries, corruption and violence and poverty is commonplace.
---
The Most Major Event: While working at Mc Donnell Douglas in Long Beach, I met this really beautiful blue eyed blond who was my director's secretary. Her name was Donna Main. We dated secretly for a while and then got married April 18, 1970 in Long Beach. She is still the love of my life. We have been, married 38 years. I haven't always been the best husband but she has put up with me anyway! We have two sons, Tim 35 and Joe 31. They have grown up to be fine young men. We are very proud of them. They are each different from each other but still very similar. Joe is a WEB design master and has his own company http://open-interactive.com/ and Tim is the production manager at Laguna Beach Art Museum. They both have very sweet and beautiful girl friends, Tim has Breanne, and Joe has Sarah, and hopefully both couples will be married one of these days. We are hoping for grand babies in the future.
| | |
| --- | --- |
| Donna at a Dance 1970 | Donna & Don 1996 |
| | |
| --- | --- |
| | |
| Donna at Party 1970 (Great Smile) | Dancing at the same party 1970 (Is that Ice Tea?) |
Mom with Me and Donna and Charlie 1970
Me, Donna, New Baby Joey and Proud Brother Timmy - 1976
1979
---
December 1st 2017 Tim and Jen Are Married
---
---
In May of 2005 we went on a 7 day cruise to Alaska. It was spectacular. We had a room on the outside and right side of the ship with a balcony out over the water. The weather was sunny and warm and the food was way over the top. We all put on weight while on the cruise. Alaska is so beautiful. The glaciers are unbelievably grand.
Cruise Ship to Alaska 2005
Water Taxi to and from the ship in Skagway.
SS Coral Princess
Canoe Fun
Glacier Bay
Back to the ship.
On-board dinner with Donna and Traci and our servers.
---
Over the years we have lived in Long Beach CA, Lakewood CA (our first house), Broken Arrow OK, Wagoner OK, Saudi Arabia, Irvine CA, Temecula CA, Laguna Woods (Leisure World) CA, and presently live in Laguna Hills CA. We didn't like Temecula because it was too far away from our boys and relatives. Leisure World was too small and everyone around us was 20 years older than we were so we had nothing in common with any of them. We like where we are now, quiet, comfy and close to everything.
---
Donna , Tim, Joe and I lived in Oklahoma for 7 years. We had visited Mom and Leo at their lake house and decided that since it was so beautiful and green and had so many lakes and parks it would be a great place to raise the boys. We moved there in 1976. At my request I was transferred from Long Beach to the McDonnell Douglas facility in Tulsa Oklahoma, at Airforce Plant # 3.
Air Force Plant 3
Tulsa, OK
Air Force Plant 3 is adjacent to Tulsa International Airport, northeast of Tulsa. The site covers 642 acres (of which the government owns 52%) and includes 3.8 million square feet of floor space (of which the government owns 73%). The plant was shared by McDonnell Douglas Corporation and North American Aviation Operations (Rockwell International).
In 1940, the City of Tulsa purchased land adjacent to the municipal airport for an aircraft plant and, in 1941, Douglas Aircraft Company began operations. From 1941 to 1945, the plant was run by the Douglas Aircraft Co. and used to manufacture, assemble, and modify bombers and other airplanes for the Army Air Corps. Production was suspended in 1945, and the plant was used by Tinker AFB for storage from 1945 to 1950. The plant was reactivated in 1950 to manufacture B-47 Stratojets. In 1953, manufacture of the twin-jet Douglas Bomber (B-66) was begun.
In the early 1960s McDonnell Douglas began to use the plant to perform maintenance on private aircraft, including the B-52, KC-135 and the F-4. In 1962, Rockwell International moved in to share the plant with McDonnell Douglas, leasing 30 percent of the plant to manufacture aerospace products. McDonnell Douglas Aircraft Company continued to operate the remaining 70 percent for maintenance of military and commercial aircraft as well as for the manufacture of aircraft components.
During the 1980s McDonnell Douglas' s facilities manufactured components for the F-15 (aft fuselage, pylons, launchers, and external fuel tank), F-18 (pylons, launchers, and external tank), and AV-8 (external tanks). Rockwell' s facilities produced components for the B-1B (over-wing fairings, wing flaps, and doors) and the space shuttle.
McDonnell Douglas terminated its lease in June 1994, Rockwell remained. In September 1994, the City of Tulsa became the primary tenant, subleasing 20 percent of the plant to Rockwell; the remaining 80 percent was mothballed. As of 1996, the facility was scheduled to be sold.
The City of Tulsa subsequently subleased additional space to Rockwell (Boeing), and to air freight and warehousing operations. The City of Tulsa has responsibility for facility maintenance and environmental management of major systems and operations; Rockwell retained responsibility for permits and waste management activities relative to its production-specific operations. The Tulsa District Corps of Engineers was the caretaker for that portion of the plant in cold storage. A Quitclaim Deed transferring the title of the property to the City of Tulsa, OK, was executed on 6 December 1999. The City of Tulsa is now owner and operator of the property.
Aerial View of the Tulsa Facily in the 70's
McDonnell Douglas Tulsa History
---
Donna was 8 months pregnant with Joe at the time. He was born in Tulsa Nov 6th 1976 and we bought a new home in Broken Arrow about 20 miles south of Tulsa. We moved from Broken Arrow in 1978 to the little town of Wagoner, about 40 miles south east of Tulsa. Wagoner had a population of about 6500 at the time. We bought an old wooden framed house built in 1890, when the area was Oklahoma Indian Territory, before statehood. It was a plantation style with a big front porch across the whole front, with ten foot wooden pillars. The house set back about a hundred feet from the street. The lot was 1.5 acres, with a 20x20' detached garage. There was a lot of room to raise kids and have a nice garden. We had it insulated and had air conditioning and central air heat installed. It was pretty comfy.
Me and Leo 1981, Wagoner Oklahoma
Leo on a good day!
Me on a good day!
Home in Wagoner OK (photo 2007)
Joe age 5 & Tim age 9 - 1982 Soccer Dudes!
We got Tim and Joe involved in youth Soccer and I was a coach and a referee for about 4 years. We met a lot of really nice people while involved in Soccer, and a lot that were not so nice. One couple we met and became friends with was Al and Linda Colbert. Their son was on our soccer team. Al and Linda were black. They were the type of people of whom their color wasn't noticeable. They were good friends and just good people. When we were getting ready to leave Wagoner and go to Saudi Arabia in 1983, we all went out to dinner at a cafeteria in Muskogee, Ok. While seated at a large table in the center of the room we noticed that everyone in the cafeteria was staring at us all the while we were dining and laughing and talking. It didn't dawn us until much later why we were being stared at. We were white and they were black, setting at the same table and enjoying each others company. We had forgotten that we were in Red-Neck country.
Soccer was a lot of fun in Wagoner, but the school district there was terrible. All of the teachers and school officials were related to each other and didn't like outsiders questioning how they taught and ran the schools. Tim came home one day and told us there was a little girl at school, Tim was in the 1st grade, that had a sigh hung around her neck by one of the teachers which read "I eat like a baby, I act like a baby". Donna went to one of the school board meetings and brought it up. They acted very concerned and said they would look into it right away. The very next week, Tim could do nothing satisfactory for his teachers and was getting criticized for everything. His teachers began taking vengeance on us through him.
So we started taking the boys to a Catholic school which was about 17 miles from Wagoner, in Muskogee Oklahoma. We aren't Catholic, but it was the best school in the area. We lived in Wagoner until 1982 when I accepted the job with McDonnell Douglas Services in Saudi Arabia.
Saudi Arabia: I went to Saudi Arabia the first time with McDonnell Douglas as a Budget Analyst/Business Operations Analyst /Accountant. I was there for 4 months before Donna and Tim and Joe joined me. Then we were there together for 1½ years until mid 1984. We lived in the city of Riyadh which is pretty much in the center of the country in an all American compound.
On the Saudi Scene
Tea in the Desert at Sundown, a favorite Saudi activity.
Oil field in Dhahran.
Saudi Women in the mall.
A what crossing?
Saudi Mall Scene
Scene from Riyadh, Saudi Arabia
Big Macs for everyone!
(Women on one side Men on the other)
The latest Summer Fashions (Pointless Family Photo of the year!)
---
| | | |
| --- | --- | --- |
| Saudi Arabia Map | My office in Daharan KSA | In Desert near Khamise KSA |
Click Link
The Saudi Arabian culture is very different than ours. It is for the most part, a closed society. Moslem law is practiced everywhere. There is no tolerance toward other religions. They loath the Jews and support the destruction of Israel. No churches, synagogues or temples allowed. There are no movie theatres, no dating of the single population. The teens all go to the Malls and talk to each other on their cell phones on opposite sides of the mall, but visible to each other. Change will come slowly.
Travel: We were able to do a lot of world traveling at the expense of McDonnell Douglas. We had a great travel benefit package as part of our employment contract. Every 6 months we were able to fly anywhere in the world and stay in nice hotels and see a lot of interesting places. One trip we went to Great Britain for 6 weeks. I rented a car and we toured England, Whales, and Scotland. We stayed 3 nights on Loch Ness (didn't see Nessie). The waitress at the restaurant where ate dinner said if I drink enough scotch I might get a glimps of Nessie! It was a very enjoyable trip. Scotland is especially beautiful with green rolling hills and cool crisp air.
While driving all over Great Britian we saw a lot of beautiful Castles and a lot of interesting people and places. British food is for the most part very bland. The best food we found while traveling was in the Pubs. Of course ther are McDonalds there too. One of our favorite foods while in the Isle was fresh Fish & Chips. Fish & Chips are like fast food there. Britian has a lot of walk-up counters where you can buy it served on a piece of butcher paper and you carry the food away in your hand. Fresh and delicious, especially with a little basalmic vinegar. London was very interesting to see. Picadilly Circuis is full of young people, punkers, rockers, wild clothing and a lot of tourists. We rode the "London's Tube" subway just to see what it was like.
Piccadilly Circus
After London we visited Stratford Upon Avon, the birth place of Shakespere. Beautiful little city.
Stratford Upon Avon - Beautiful place to visit.
---
We also were able to visit Bangkok Thialand and Hawaii while I worked in Saudi on the first tour in the 1980's.
Part of the "Floating Market"
Snake Charmer (yes they really do this all the time)
Bangkok Thailand -- "Poverty at its Best"
---
---
Second Trip to Saudi: I returned for the last time in 1996 as single status without the family. By then Muslim extremist activities had begun happening more frequently, so we didn't want to have the family there. Also, Tim and Joe were in Middle School and High School and we didn't want to disrupt them. While on this second assignment, I worked in Dharahan (north east coast on the Persian Gulf), Riyadh (the capital city in the center of the country), Taif (in the west), and Khamis Mushayt (in the south east).
The Royal Saudi Air force has bases in these cities and we have people at each base helping the Saudi's maintain and train their pilots and maintenance crews on the F15 fighter planes they have purchased. Taif is just south of Mecca the Holy City. Non-Muslims are not allowed there, not even to look. Muslims have to go on a pilgrimage to Mecca at least once in their lifetime, no matter what part of the world they live in. This pilgrimage is yearly en-masse on the Ramadan holiday.
In order for a non-Muslim to enter the country they must be sponsored by a Saudi citizen or a company doing business in the country. All businesses in Saudi Arabia must be 51% owned by a Saudi. Bibles are not allowed in the country. If a person is caught with a Bible they are immediately put on a plane and deported to their country of origin. All of the construction and manual labor in this country is done by non-Saudi workers. Most laborers there are Indian, Pakistanis, Sri Lankan's etc... The majority of Saudi's feel they are above doing manual labor. Theirs is a very privileged and intolerant society. All in all, the Saudi's are a very lazy, arrogant, and intolerant lot. There are some very nice people there who are friendly and generous, but there is still that very strong feeling that they are Arab and you are not. For instance, if you get in an automobile accident, the police are called. The officer talks to both parties and decides on the spot, which is at fault. The person determined to be at fault is required to pay a cash settlement to the other party, then and there or go to jail until it is paid. Naturally if a non Arab speaking person is involved, he has the disadvantage because an Arab can converse freely with the officer who usually does not speak English! Their attitude is that if you weren't there, the accident wouldn't have happened. (Justice for all?)
---
---
Mom and Dad Pass On:
Mom lived with Leo in Park Hill, Oklahoma for the remainder of her life. Mom passed away December 14th 1986. She is buried in a beautiful and peaceful little country cemetery in Park Hill, Oklahoma near Tenkiller Lake where Mom and Leo lived from 1973 to 1986.
Me at Mom's Gravesite in 2007.
---
Dad Schwab was remarried to a nice lady with 5 children named Barbara in Haysville Kansas. I hadn't seen or heard of Dad for 17 years since he and Mom were divorced. My sister Donna got his address for me and my wife Donna and I and the boys drove to Kansas and visited them in the1970. It was a very emotional and fulfilling experience to see him after all those years. He was smaller and older than in my memories. We spent the night with them and had a home made fried chicken dinner. Barbara was a great cook.
Dad Schwab passed away after being in an auto accident October 22, 1992. and was buried in Resthaven Gardens of Memory in Wichita, Kansas Oct. 26, 1992. I was able to attend his funeral with Donna and Delmar. I met my aunt Mable for the first time at the funeral.
---
Trivia: When we were all growing up, smoking was very acceptable and considered cool and glamorous. I started smoking Camel unfiltered cigarettes when I was 14 years of age. I can still remember Mom waking me up for school with a lit cigarette and a hot cup of coffee. I would smoke and drink a coffee before I got out of bed. Can you believe such a thing? Society didn't have a clue that smoking was bad for your health. Anothr example of deceptive marketing to the masses.
---
---
Civilian Life and into Aerospace:
After being honorably discharged form the Navy in 1960 I continued to live in Long Beach with my first wife (married in 1958) Penny (Austin) and our two children Beth and Jenny. In 1966 we had our third child, Scott, a son. I worked in a gas station, parking lot, electric car company, and then went to work for North American Aviation in Downey Ca. Later NAA became Rockwell Corporation. Penny and I divorced in 1968 after 10 years of marriage (we were married way too young).
Jennifer is married and lives in Palmdale CA. Jenny and her husband Glen are mentally challenged as are their two girls. Glen however does a good job of taking care of them and managing their finances and medical needs in spite of his handicap.
Beth is married and lives in Sunland CA. She has grown up to be a beautiful and loving person. Her husband Trent is a great guy too. They are very happy together.
Scott was married and had 3 children who now live in Apple Valley with their other grandparents.
Scott and his ex-wife were mixed up in drugs and Scott was a heroin addict for over 10 years. He has been "clean" for several years now and looks like he is staying that way. Scott is a very talented artist and has put all his talents to work as a tattoo artist. He works in a Tattoo parlor in Victorville and sees his kids on a daily basis and goes to a local church that ministers to ex-addicts.

I worked at Rockwell (then NorthAmerican Avaition) for 4 years as a test technician in an electronic laboratory and test procedure writer 1962-1966, and then I came to Douglas Aircraft in, Long Beach facility, 10 February 1966. They sent me to the Philippines for 6 months as a field service technician. Douglas became McDonnell Douglas, which is now Boeing. The Boeing Co. also bought out the Rockwell Corporation. I spent 7 years at the Tulsa Oklahoma facility; from there I transferred to Saudi Arabia. After Saudi I came back to Long Beach for 10 years and then back to Saudi in 1996. I retired from Boeing in 1999 after spending 3½ years in Saudi Arabia for Mc Donnell Douglas Services. I have been working as a Business Operations Consultant (as a contract hire) at Long Beach Boeing since retiring, a total of 42 years in aerospace. I guess I finally have to admit to being over 39. Ha!
I retired for real August 28, 2008. Time to travel, go fishing, camping, Ham Radio, Honey Do's, sleep in and stay up late!
More about Saudi Arabia: I went to Saudi Arabia for the first time in 1982 for McDonnell Douglas as a Budget Analyst/Business Operations analyst /Accountant. I was there for 4 months before Donna and Tim and Joe joined me. We were all there together for 1½ years. We lived in the city of Riyadh which is pretty much in the center of the country. Their culture is very different than ours. It is for the most part a closed society. Moslem law is practiced everywhere. They have prayer call 5 times a day at which time everything stops. All the stores and other businesses remain closed for about 45 minutes. There is no tolerance toward other religions. No churches, synagogues or temples allowed. There are no movie theatres, no dating of the single population. The teens all go to the Malls and talk to each other on their cell phones on opposite sides of the mall, but visible to each other. Marriages are determined by parents as to who will marry who. Change will comes slowly. I returned to Saudi Arabia alone again in1996 and stayed until I retired from Boeing in March of 1999. That same month I started working at Boeing in Long Beach as a Business Operations consultant. While in Saudi, on my second tour, I worked in Dharahan (north east coast on the Persian Gulf., Riyadh (the capital city in the center of the country), and Taif (in the west), and Khamis Mushayt (in the south east). The Royal Saudi Air force has bases in these cities and we have people at each base helping the Saudi's maintain and train on the F15 fighter planes they have purchased. Taif is just south of Mecca the Holy City.
Non-Muslims are not allowed to enter Mecca, not even to look. Muslims have to go on a pilgrimage to Mecca at least once in their lifetime. In order for a non-Muslim to enter the country they must be sponsored by a Saudi citizen or a company doing business in the country. All businesses must be 51% owned by a Saudi. Bibles are not allowed in the country. If a person is caught with a Bible they are immediately put on a plane and deported to their country of origin. All of the construction and manual labor in this country is done by non-Saudi. Most Saudi's feel they are above doing manual labor. Theirs is a very privileged and intolerant society. All in all they are very lazy, and arrogant and intolerant lot. There are some very nice people there who are friendly and generous, but there is still that very strong feeling that they are Arab and you are not. For instance, if you get in an automobile accident, the police are called. The officer talks to both parties and decides on the spot which is at fault. The person determined to be at fault is required to pay cash a settlement to the other party, then and there, or go to jail until it is paid. Naturally if a non-Arab person is involved, he has the disadvantage because the Arab can converse freely with the officer who usually does not speak English! Their attitude is that if you weren't there, the accident wouldn't have happened.
There are a lot of interesting places to see in Saudi Arabia. While there I took many all day drives into the desert wilderness with other Americans who lived in my compound and worked at McDonnell Douglas Services and other American and European companies... Our compounds were very nice and each was like a small city. There were usually around 1,000 westerners with and without families. Each compound had a cashier, several eating establishments, a general store, Olympic size swimming pool, recreation center, tennis courts, workout center, video library and book library. The apartments and houses were very nice with all new furniture, televisions, and free satellite service. All linens, bedding, washer and dryer, bottled water, dishwasher, and garbage disposals were provided free. Also, electricity and transportation were free. Compounds were made with 8 to 10 foot walls around the perimeter, guarded gate entry. The entry gates are manned with armed guards with machine guns, concrete barricades, and manned army tanks. Each vehicle entering the compound is searched inside and outside for bombs, explosives etc. The guards even use big mirrors to inspect the underside of each vehicle before allowing entry. Food at the dining rooms and snack bars was subsidized so was very reasonably priced.
The mid-eastern food is actually very good. They have a lot of chicken, lamb and beef and rice dishes. No pork. We used to like to go to one of the take-out restaurants and bring home broiled chicken, basmati rice, humus and pita bread, tabouleh salad, chicken and beef shawerma sandwiches, falafel, lamb roast. The food is very flavorful many exotic spices. We still eat a lot of mid-eastern food since it is readily available in So Cal. Most of their food is broiled and not fried so it is pretty healthy. There is a restaurant near Disneyland in Buena Park on Ball road named Zancow Chicken, which we visit every few months for dinner or lunch. Delicious food!
There are several types of police in Saudi. The Secret Police, local City Police in each city, Military Police, National Guard, The Royal Guard, and the religious police called "Mutaween".
A British Commentary on Saudi Arabia - A "MUST WATCH"
(click link)
---
(click link)
Yep, this is 2008 and Muslim Fundamentalists want to step 2000 years back into the past! I can only imagine what we Westerners and Europeans are up against with the Muslim mind-set. They still have public executions for crimes such as murder and rape. Executions are carried out by public beheading. I doubt if most people realize just how serious of a situation the free world is beginning to face. If a woman is raped in the Indian Muslim culture, she is usually put to death by her own family for bringing shame to the family name. What twisted and sick mind thought of that?
I could write a book about the Middle-East, but hey, why bother. It doesn't get any better than here in the U.S.A. As soon as we get off oil, let them go back to raising camels and living in the desert. In my opinion there will never be peace in the middle-east. There is too much hate and violence in their religion and supersticious tribal society, past and present. They are still basically tribal and don't want our definition peace. Their definition of peace is to live by Islamic law and force their beliefs on the rest of the world. Islamic law, with all of its abuse, cruelty and revenge and lack of human rights.
The articles in the link above are interesting reading and I hope by including them that I can help you all to understand what is threatening our way of life.
Ok, enough of the "soap box".
---
We came home from Saudi Arabia in 1983 and settled in Irvine Ca. Tim started in Self Middle school and Joe in Culverdale Elementary. Later Tim went to University High and Joe went to Woodbridge High. They both graduated from high school and went on to college at the Art Institute of Southern California in Laguna Beach, Ca.
Schwab Family at Tim's College Graduation.
---
Now Times:
Donna and I have a mobile home in a family park named Laguna Hills Estates. We are right across the street from Leisure World now re-named Laguna Woods. We lived in Leisure World for about 1 1/2 years, didn't like it. We have been living in Laguna Hills since 2005. Tim lives in Laguna Beach. He has a Jindo Korean breed, white dog named Jaya. He is a great affectionate pet and a good watch dog too. Joe lives south of Corona just off the I-15 freeway. His office is in Costa Mesa. I retired from Boeing in Long Beach as a business operations consultant on the C-17 program on August 28th 2008. Hooray!! Travel, rest, fishing, fitness center, gardening, amateur radio, visiting friends, playing cards, casino trips, etc.......!
---
The Schwab Family 2005
Temecula, Ca. Summer 2002
Tim and Joe at Car Show 2000
Joe, Tim & Dad 2004
---
| | |
| --- | --- |
| Me (far right) and friends at Boeing Luncheon 2007 | President Bush at C-17 Airlifter ceremony Boeing Long Beach |
The C-17 Airlifter over Hawaii.
---
30 year Anniversary at Boeing
---
Donna's 50th High School Reunion
In august 2007 we went to Donna's 50th High School Reunion in Johnston, Iowa. There were 23 class members out of 40 that were able to attend. It was a very fun event. we visited several places in the area including Fort Dodge. We also went to the Iowa State Fair. Bill and Marlene Allen went to school with Donna in Iowa and they have been friends for over 40 years. We visit them and they visit us several times a year. Bill and Marlene live in Apache Junction, Arizona (east of Phoenix).
Bill, Marlene, Donna and Me in Temecula, Ca. 2003
---
(CLICK LINK)
---
BURNT RANCHERIA CAMPING TRIP 2008
(CLICK LINK)
---
(CLICK LINK)
---
Family Picture taken on Donna's birthday, April 2008
Back row Left to right - Matt, Sarah & Joe, Tim & Breanne, Middle row -Donna, Don and Nancy, Front row - Ben & Hannah
---
Matt and Nancy are Ben and Hannah's parents. We are Ben and Hannah's adopted grandparents.
Great thing about grandchildren, we can spoil them and then give back to mom and dad!
---
(CLICK LINK)
---
Joe's Trip To Turkey September 2008
(CLICK LINK)
---
(CLICK LINK)
---
Joe's Trip To Uganda - November 2008
(CLICK LINK)
---
(CLICK LINK)
---
Me on my 70th birthday October 25th, 2009
Yikes!
---
This page last updated: April 28, 2009 (See Renaissance Faire 2009)
(CLICK LINK)