Collins Family Page
This Page Last Updated: May 17, 2009
THIS PAGE IS UNDER CNSTRUCTION...AWAITING FAMILY INFORMATION AND PHOTOS.
Delmar, Donna, Leo, Boys, Vicki approximately 1972 in front of Mom and Leo's house in Paramount, Ca.
---
Donna Marie Schwab-Collins was born 03 November 1937
Delmar Collins was born 04 July, 1934 (Husband)
Donna and Delmar were married in Whittier Ca. on Sept. 4, 1955 and they moved back to Delmar's home towm of Siloam Springs, Arkansas in Jan. of 1961. They still live in their lovely house in the country, just outside Siloam Springs.
Collins Children:
Delmar Eugene Collins born 06 January, 1957.
Married Lydia Nichols
Children: Jessica Marie, Mary Faith, Laura Nicole
Brody Scott Collins born 29 October, 1960.
Married Ramona Hurdlebrink
Billy Ray Collins born 24 August, 1965
Married Davina Walker
Children: Gretchen Zita, Walker Elijah, Kieron
Shawna Lynette Collins 20 February 1970
Married Tony Zodrow
Children: Jackson, Rachael
John Eric Collins 20 February 1970
Married Carrie Lynn
Children: Corbin, Camden
---
Donna provided the following scanned photos from her albums October 4, 2008: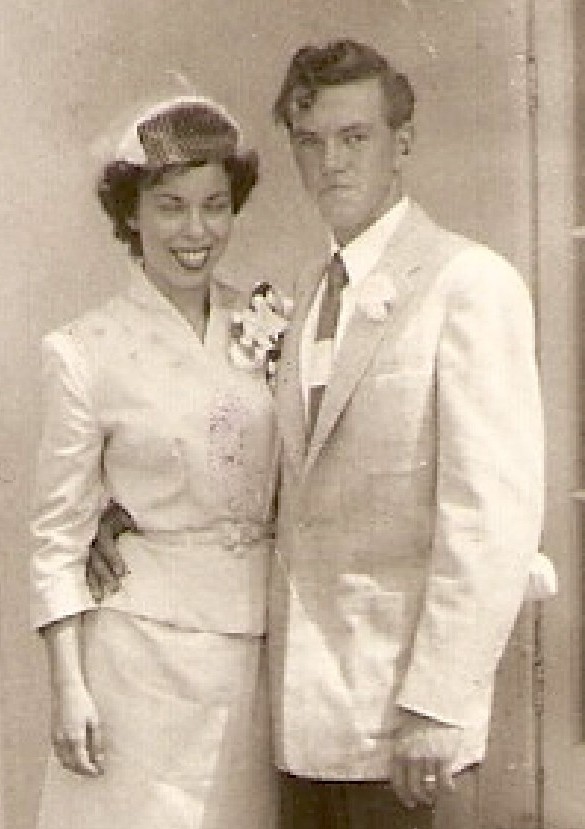 Wedding Day
Jean, Brody & Billy 1965
Twins
The Collins Family - Generations
Donna's Kendergarten Class of 1943
Roberta, Delmar, Glen & Kristin
1942 California
Top Left-Mom and 4 of us kids. Top Right - Donna
---
Donna sent the following family pictures August 30, 2008.
Grandpa and Grandma Schwab
Dad's brother Warren Schwab and Wife
Uncle Ray, Warren, Dad, Donna, Dorothy, Roberta
Dad's brother Warren Schwab as a Pilot in WWII
Mom and Dad 1940's
---
Donna sent this picture of Billy Collins 17 May 2009. Billy is a Policeman in Rogers, Arkansas.
---